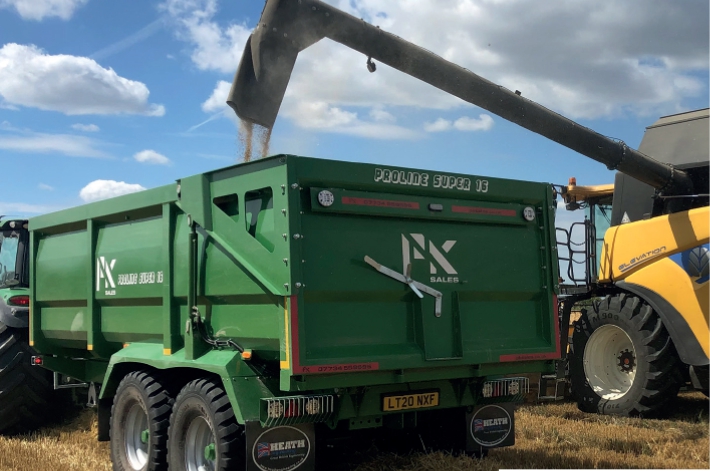 After 23 years working within his family's agricultural machinery manufacturing business, Paul Kelloway set up on his own – and his range of trailers and manure spreaders is expandingto meet growing customer demand. David Williams reports.
Paul, with his wife Rebecca, set up Oxfordshire-based PK Sales in 2018, with support and encouragement from local farmers and business colleagues. "We were keen to branch out on our own," explained Paul, "but setting up a viable business required considerable investment and we were lucky to receive the backing of several farmers who had faith in our ability to set up the new business.
"I wanted to sell to farmers, as I enjoy the personal contact as well as dealing with several generations of the same families, and I used Lamma 2019 as an opportunity to seek out suitable product ranges to offer. However, I remained keen to find a manufacturer who would build a range of products to my own specification based on the experience I gained within the family business."
Bale and grain trailers
Paul had a good relationship with bale chaser manufacturer Heath Engineering, having previously supplied manure spreaders for the company's contracting division. He proposed a manufacturing agreement which would benefit both businesses, and by spring 2019 he had a Heath-built flat bale trailer to offer, joined a short time later by a 16t grain and silage trailer.
Sold under Paul's Pro-Line brand, the trailers proved popular – so additional models, including an 18t grain trailer and Paul's Load and Go hydraulic bale clamping system, were also added, and a smaller 14t grain and silage trailer will be available next year. "My experience of trailer design and manufacture meant I knew exactly what farmers and contractors were looking for, and working with Heath Engineering made it easy to add in the features I wanted to offer," Paul continued.
"All our grain and silage trailers feature a two-inch taper front to rear, ensuring they unload easily even when transporting sticky materials. I also included single piece folded steel sides with four vertical side braces as standard, for maximum durability and strength."
Rear-discharge spreaders
Paul also wanted a range of rear discharge manure spreaders, so he approached various manufacturers including Agri-Spread, which is based in Ireland. "I visited the factory and was impressed by the facilities," he explained. "There was impressive attention to detail, including the metal treatment and paint finish which is key to the durability of any manure spreader. I designed new bodies, and the rotors which were to be manufactured of boron steel inhouse, and displayed the new range at Lamma 2020."
Every set of rotors is balanced during manufacture and the range includes Pro models for traditional livestock farms with 6–9t capacity. There is also a 1000 Compact model with a short body and 10t capacity; a 10t standard body version; an 11t Compact machine and a 12t standard body. Larger Pro Plus heavy duty 14, 16 and 18t models are also available which have proved popular with larger farms and contractors.
Three year warranty
"We offer a full three-year warranty as standard," commented Paul, "and that helps reassure customers who might otherwise consider us a relatively unknown brand. Everything we sell is made from top specification components, so I have no worries accepting orders from users who will depend on our products wherever they are based in the UK. A lot of sales to date have been from customers who have known us for many years, but we have also gained many enquiries and sales through our advertising in Farmers Guide. Most sales are direct to end users, although a small number of dealers have been appointed to serve customers in particular areas.