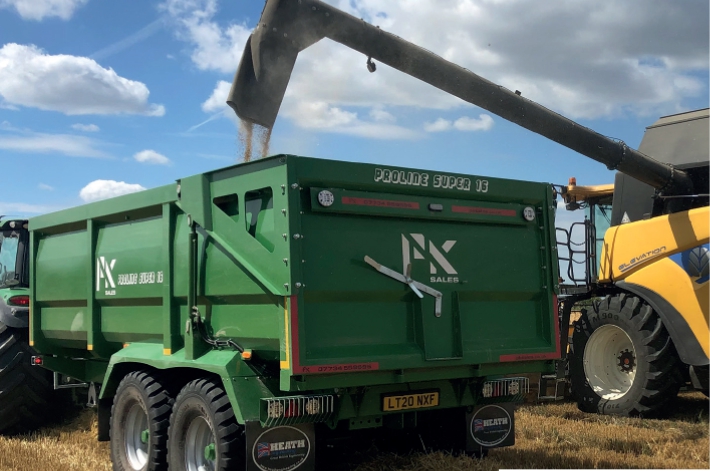 As featured in Farm Contractor & Large Scale Farmer – (FRMC) the UK's leading agricultural machinery journal.
 Selling direct
PK Sales specialises in trailer and muckspreader sales across the UK. Matthew Tilt spoke to Paul Kelloway about how the business developed.
In the summer of 2018, Paul Kelloway found himself at a crossroads. After a change in circumstance, he wanted to branch out on his own and put more than 20 years of selling experienced to good use, but the level of investment required posed an issue.
"After some good advice from a local farmer I decided to find a manufacturer with whom I could develop a range of muck spreaders and trailers. I feel like this is what I am good at," he explained.
Speaking to farmers and contractors he knew well, Paul was encouraged to set up PK Sales in December 2018, focused on working with manufacturers to create and distribute new product ranges. "Without the help of previous customers like Derek Pither and Richard Hewlett, I don't think I would be where I am today. I've also had tremendous support from the farming community, who have helped get the business off the ground."
Now, PK Sales distributes a broad trailer portfolio produced by the Warwickshire based Heath Engineering and muck spreaders from Irish manufacturer Agri-Spread. In order to maintain a level of input in the design and manufacturing process, Paul worked closely with each company to reach mutually beneficial arrangements.
"I contacted Heath Engineering because I already knew their portfolio well and that their machines were built to a high standard," said Paul. "we discussed the options available and I agreed to sell a new collaborative design or bale trailers, while we looked at developing additional products."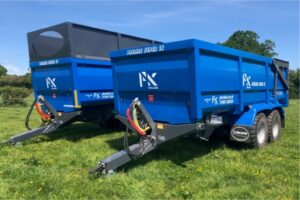 The resulting Proline Super6 tipping trailer boasts a 16-tonne capacity, with the option of silage extensions. The model was launched at the Midlands Machinery show in November 2019 and Paul tells us that customer feedback has been very positive.
"We introduced more vertical pillars in the grain body and extensions to improve the strength, and opted for a parabolic suspension system which has been very well-received," he said.
Paul also acts as a dealer for Heath's bale handling products, including the SuperGrab, capable of moving and stacking up to four square bales simultaneously, and the SuperSpike designed for stacking bales in the filed and safe transport, with hydraulically folding tines.
Similarly, the decision to work with Agrispread came from respect got the existing portfolio, which led to a conversation at Lamma 2019. "The Agri Pro range uses a lot of what Aprispread was already doing, with strong vertical beaters and robust floor drive," Paul said. "I was impressed with the facilities and finishing shop. Jointly we revisited the previous design, and with my input and experience, Agrispread were happy to improve the range of spreaders to incorporate my needs and meet the quality I demand from my products."
Setting up shop
While the building blocks have been in place since early 2019, Paul's first year selling direct to customers was marred by the pandemic. Having exhibited at LAMMA 202 on a joint stand with Agrispread, Paul has since had to rely on focused marketing and word of mouth to make sales.
"I'm lucky in a sense because so much is done online and over the phone nowadays that I can still offer my products without too much face-to-face contact," he said. "But it's been difficult for me personally because I like selling and dealing with people."
This desire to work with people has led to the decision to sell direct nationwide. "I'm the sole agent for a product range I have faith in and a passion to sell," he explained. "For me, the best part of the job is spending time with the customers – getting to know their requirement and finding the best machines to meet their needs.
"But I also recognise that I have to temper the growth of the business so that it remains sustainable and I can continue offering a high level of service. You build locally so that you can expand nationally."
Luckily much of the groundwork was done before the pandemic stopped gatherings. Paul travelled to Cirencester market to meet local operators and promote his products, has had stands at county shows and has focused on Gloucestershire, Oxfordshire, Buckinghamshire and Worcestershire.
Paul handles every aspect of the business himself, gratefully accepting support from Mr Pither and Mr Hewlett.
For sales further afield, Paul uses hauliers and has built a good knowledge of fitters and mechanics to back up the machines. "Everything I sell comes with a three-year manufacturer's warranty and I can almost guarantee that I know a dependable service engineer within 5-miles of a customer," he added.
Similarly, spare parts are handled by Paul, or by couriers for long distance back up. He does plan on investing in staff in the future but is quite happy to continue working as a one-man band until sales justify the expense.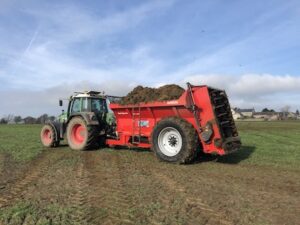 Going forward, Paul is working with Heath Engineering and Agrispread to expand the available ranges. New sizes of the tipping trailers will be made available throughout 2021, while the muckspreader portfolio will grow to include horizontal beater machines.
"I don't want to run before I can walk, but I'm excited about the mew opportunities available to me", he concluded.