Agrispread Pro+ 18000 Muck Spreader

(PK139)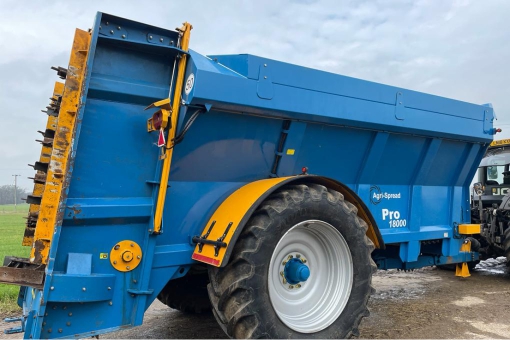 All used machinery has been thoroughly checked over and comes with a 3-month warranty.
Agrispread Pro+ 18000 Muck Spreader
Year 2020
This is a very unique size and age machine that has as they say in the car game, 'every toy you can imagine' making the machine TOP OF THE RANGE!  This is an ex-demo machine and a brilliant opportunity to purchase such a new machine at a fantastic price.  This machine has variable rate auto spreading via GPS to utilise muck more efficiently and reduce the use of fertilisers.
Slurry door
Wide-angle PTO shaft
Automatic slip clutch
Sprung drawbar c/w swivel hitch
ISOBUS Full GPS automatic spreading
2 x 20mm floor chains
10 Stud commercial axle c/w 420 x 180
Air Brakes
LED road lights
Slurry door site gauge
Steel mudguard's c/w rubber edges and LED markers
Steel extension sides
1000 RPM wide rotor augers
Rear tow hitch
Alliance 650/65 R42 tyres
Fully serviced and repaired to a very high standard – £47,500 + VAT
A new machine fully loaded with this spec will cost more than £80k!!!
Reference Number: PK139
For further details, call Paul on 07734 55 96 96